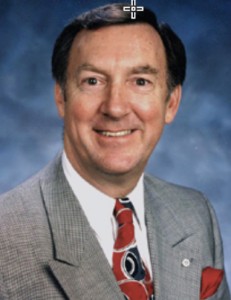 The Nevada Aerospace Hall of Fame is pleased to announce the joining of Lt. Col. Denny Weddle, USAF Ret, to its staff as Director of Government Affairs. Colonel Weddle fills an important role in NVAHOF's structure as it prepares to enshrine into the Nevada Aerospace Hall of Fame seven of the state's aviation and aerospace legends as well as the Thunderbird Alumni Association of our nation's Ambassadors in Blue, the U.S. Air Force Air Demonstration Squadron (Thunderbirds). This recognition of our state's heroes, active duty service men and women, and veterans will carry over into Veterans' Day and the public air show that follows this coming November. Weddle's many services in the past include his serving as Chairman of the Thunderbird Alumni Association.
As President of Denny Weddle & Associates in Las Vegas, Nevada, Colonel Weddle brings to the organization a valuable knowledge and experience in governmental affairs. Previously assigned to the Pentagon as Chief, Air Force Protocol, Weddle, a veteran, retired after twenty years service from the United States Air Force in October 1985.
Denny earned his BFA from Drake University in 1963 while working as a commercial television director, radio announcer, professional MC and actor. He received his MS degree in College Counseling from the University of Southern Mississippi in 1967.
No stranger to Southern Nevada, he served two tours of duty at Nellis Air Force Base – first as Information Officer for the USAF Thunderbirds from 1969 to 1972, and later as Director of Protocol from 1980 to 1983.
Commissioned through the Air Force ROTC program, Lieutenant Colonel Weddle's assignments carried him to over 25 foreign countries and all 50 states. Other highlights of his military career include: selection as a Public Affairs Officer for "Operation Homecoming" at Clark AFB, Philippines and one of only 16 Public Affairs Officers to land in Hanoi and escort American POWs back to freedom; Director, Radio and Television at the Defense Information School and assignment to the USAF Academy as Chief, Cadet Wing Media and Director of Protocol. He is the author of the book "I Would Have Gave My Life … But I Don't Think My Parents Would Like It".
Colonel Weddle was an honor graduate of the Defense Information Officer Short Course at the University of Oklahoma. His decorations include the Bronze Star, Meritorious Service Medal (4), Joint Service Commendation Medal, Air Force Commendation Medal, Vietnamese Cross of Gallantry and others. He is a rated Parachutist.
Denny is a member of Who's Who Among Students in America Colleges and Universities, Who's Who in Tau Kappa Epsilon Fraternity, International Order of Characters, one of the Jaycees' Outstanding Young Men in America in 1977, and a member of Omicron Delta Kappa, Phi Delta Kappa and Theta Alpha Phi Honorary fraternities.
He also serves as a political consultant/lobbyist for a variety of clients and was named #8 of the "Top 20 Lobbyists" by The Nevada Republican in 1991.
ABOUT NVAHOF
NVAHOF has dedicated its mission to preserving the history of aerospace in the state of Nevada and establishes and maintains an ongoing means of honoring individuals from Nevada who have contributed in a significant manner to the development, advancement and promotion of aerospace.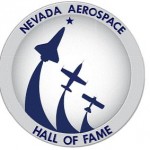 NVAHOF was incorporated in the State of Nevada on December 1, 2008 as a not for profit corporation organized exclusively for educational purposes under Section 501 (c) (3) of the Internal Revenue Code of 1954 and received tax exempt status from the U.S. Internal Revenue Service on November 9, 2009. The NVAHOF currently operates as an educational resource and virtual museum through our website, www.nvahof.org we offer the general public information related to the history of aviation and space through our virtual museum, speakers bureau, and access to our historical archives holdings, recommendation of related books on related subjects and our annual Hall of Fame induction ceremonies.
NVAHOF also honors individuals who were not native to Nevada but were associated with the Battle Born state, whose careers enhanced the aerospace climate worldwide or in space. The mission of NVAHOF is unique as it especially recognizes and honors the men and women, federal, military, and civilian, who worked in secrecy at various locations in Nevada.
The primary educational objectives of the NVAHOF focus on honoring the past by supporting the future of aviation. First, the programming consists of four annual scholarships awarded to outstanding students of aviation and aerospace engineering on the high school and university levels. Second, the NVAHOF also provides a state-wide Speakers Bureau for outreach within the community. The third educational objective is the creation of an accessible archive of Nevada aviation history. The uniqueness and diversity of Nevada's aviation projects make it the most important state in the nation in regards to cutting-edge aerospace technology and development.