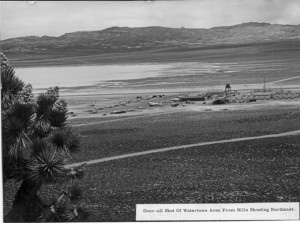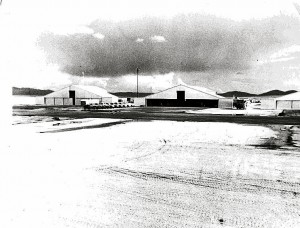 Code Names, Nicknames, and Pseudonyms of Declassified Black Projects at Groom Lake, Nevada
A NVAHOF ORAL HISTORY RESOURCE
Compiled by NVAHOF Archivist and Historian Peter W. Merlin and NVAHOF Director Thornton D. Barnes, former member of the Special Projects Team at Groom Lake
Declassification of Central Intelligence Agency and Air Force documents related to projects that took place at the Groom Lake operating location reveals how so much of Nevada's rich aviation and aerospace industry remained hidden from foreign adversaries of the United States for over 50 years. Special Access Programs (SAP), colloquially known as "black" projects, use code names, nicknames, and pseudonyms to identify program assets and activities without revealing compromising details. Code names may be either classified or unclassified. Project OXCART, for example, was originally an unacknowledged SAP to develop and field a high-speed, high-altitude reconnaissance plane. At the time, even the code name OXCART was itself classified. Nicknames are never classified even when the associated project is a SAP. The nickname HAVE BLUE was used to identify an effort to develop the first airplane designed to be virtually invisible to radar. Although the nickname itself was unclassified, only a very limited number of people were authorized to know the details of the project. Workers involved with black programs also develop their own informal system of nicknames, terms, and pseudonyms to keep their secrets safe. This article examines some of the terminology that was associated with the National Classified Test facility at Groom Dry Lake during the Cold War era.
What's in a Name?
The many names associated with the Groom Lake test facility include both formal and informal designations, and don't all refer to precisely the same thing.
Groom Lake is the name of the geographic feature that defines the test site. It is an ancient dry lakebed with a surface of sufficient hardness for aircraft operations. It includes some marked airstrips, but for all practical purposes the entire surface should be considered an active runway under the jurisdiction of the air traffic control tower.
Paradise Ranch is the name suggested for the test site by Clarence "Kelly" Johnson of Lockheed in 1955 when the site was selected for testing the U-2. According to his personal log, this name was approved and accepted by program officials at the CIA. This is why many oldtimers who worked on the U-2 still refer to the site as "The Ranch." This nickname (Johnson later admitted it was a dirty trick to lure personnel to projects at the remote site) was used for many years as generations of workers passed it on.
Watertown Airstrip is the official name bestowed on the test site by the CIA in 1956. It was taken from the name of CIA director Allen Dulles' hometown. According to some Department of Energy documents, Watertown is legally listed as a member of Alamo Township in Lincoln County.
Area 51 is the designation that was applied following the transfer of public land surrounding the base on June 20, 1958 to what was then called the Nevada Test Site (NTS). This designation specifically identifies a 38,400-acre block of land surrounding the airfield and much of the lakebed. The NTS was subdivided into numbered test areas with the numbers seemingly selected at random. Contrary to popular myth, the number 51 was not taken from an existing grid of the state or the NTS. Like Watertown, Area 51 was an official name for the facility, and may be found on official NTS maps and other documentation. The name Area 51 was never classified, but the association of that term with the using agency was. In 2010, the CIA declassified its association with Area 51, finally allowing the name to be used openly in unclassified histories and articles.
Dreamland is a radio call sign for the base, introduced in the late 1960s. It replaced the previous name, Yuletide. It referred specifically to a large block of airspace (called a Special Operations Area) surrounding Area 51 and parts of the Nevada Test Site and Nellis Air Force Range (now known as the Nevada Test and training Range). Eventually, the Dreamland airspace was reduced to cover an approximately 24-square-mile box with Groom Lake at its center. This resulted in many pilots (mostly Red Flag participants) nicknaming it "The Box" of "Red Square" (because it was defined as a no-fly zone during the various exercises in the range). The Dreamland call sign still appears in Air Force pilot's flight guides.
In some instances, the Groom Lake test site has been referred to by the designation of its operating organization. From about 1960 to 1971, this was Detachment 1, 1129th Special Activities Squadron. Formally assigned to Headquarters Command, USAF, this unit was responsible for CIA operations in Nevada during project OXCART. After the CIA transferred responsibility for the test site to the Air Force in the late 1970s, it became Detachment 3, Air Force Flight Test Center. Since the mid 1990s (and possibly as far back as the early 1980s), the Groom Lake base has also been called the National Classified Test Facility.
Home Plate and C-Base were nicknames used by security personnel and aircrews in unencrypted radio communications, rather than calling out the actual name of the base. The Home Plate nickname dates to at least the 1960s and was used to identify the base in OXCART flight logs. It occasionally appears in other documents and correspondence.
Other pseudonyms were developed to support cover stories for workers at Groom Lake. If asked where they worked, Air Force personnel were told to say "Pittman Station, Henderson, Nevada." This was derived from the original mailing address at the now defunct Pittman Postal Station (originally P.O. Box 121, later P.O. Box 52B). Civilian contractors at Groom Lake were told to say they worked for "EG&G at the Test Site." In the 1990s, the mail drop moved to an office building in Las Vegas.
More recently, the name Homey (possibly derived from Home Plate) was given in the Terrain Awareness and Warning System (TAWS) database. Also included was the airfield's four-letter designator KXTA (the three-letter domestic designator is simply XTA). The base has also been referred to in much more informal fashion by personnel who say they work "Out of Town," "Out at the Range," "Elsewhere," "St. Elsewhere," "Nowhere," "The Test Site," or simply "The Site."
Black Projects
Code names and nicknames are assigned Special Access Programs to control access to classified information. Most code names consist of a single word such as OXCART. Unclassified nicknames usually consist of two words, such as HAVE BLUE, where the first word typically identifies the sponsoring agency. Programs prefaced with the word HAVE were sponsored by Air Force Systems Command (later reorganized as Air Force Materiel Command), which is responsible for experimental and developmental test programs.
The first code name associated with a program at Groom Lake was AQUATONE. This was the original name for the CIA's U-2 test and acquisition program in 1955. The Air Force U-2 acquisition program was known as DRAGON LADY. The USAF Strategic Air Command established the 4070th Support Wing to provide U-2 pilot training at Watertown. Over the years, the U-2 was associated with a variety of code names, most long after the airplanes had departed Nevada. These included IDEALIST (CIA operations from 1960 to 1974), CHALICE (British involvement with the U-2), and TACKLE (training of nationalist Chinese U-2 pilots). Air Force U-2 operations after 1966 fell under the nickname SENIOR YEAR. Kelly Johnson informally named the U-2 the Angel, but the name Dragon Lady has persisted into the 21st Century.
In 1959, Johnson and Lockheed developed an airplane he called Archangel that was capable of speeds in excess of Mach 3 and reaching altitudes up to 90,000 feet. When the twelfth design iteration (designated A-12) was selected for limited production, the CIA ironically saddled it with the OXCART code name. In practice, it was typically referred to simply as "the Article," and individual airframes were given numbers based on their production sequence. The first A-12 off the assembly line was Article 121, the second Article 122, and so on. This numbering sequence was interrupted by production of three prototypes of an interceptor variant called the AF-12 (later re-designated YF-12A). Articles 1001 through 1003 were built for the Air Force under Project KEDLOCK. Two OXCART-type vehicles were built specifically to launch a ramjet-powered reconnaissance drone called TAGBOARD. The launch aircraft and drone (Johnson saw them as "mother" and "daughter") were designated M-21 and D-21 respectively, and the mated combination was called MD-21. The final variant of what came to be collectively known as the blackbird family of aircraft was the SR-71, built for the Air Force under the SENIOR CROWN program. Nicknames for the Blackbirds include "Lady in Black," "Sled," and "Habu." The latter, a reference to an Okinawan species of pit viper, was bestowed by the Japanese during the aircraft's deployments on Okinawa. It soon became the term for any pilot who flew an operational reconnaissance mission in the SR-71.
During the Cold War, U.S. intelligence analysts developed ambitious plans to learn as much as possible about the capabilities and vulnerabilities of Soviet fighter aircraft. Examples acquired from various allies were tested extensively at Groom Lake starting in 1968 with a joint Air Force and Navy effort called HAVE DOUGHNUT. Over the course of several months, a MiG-21 underwent technical and tactical exploitation so that the results could be quickly passed to aircrews fighting in Southeast Asia. The following year, two MiG-17 aircraft underwent similar evaluations as HAVE DRILL and HAVE FERRY. The results of these projects demonstrated the need to training U.S. aircrews in the tactics of Soviet-trained pilots and the capabilities of Soviet-made airplanes. Lessons learned were incorporated into a variety of realistic air combat training programs including the Air Force Red Flag and the Navy Top Gun programs. Exploitation of foreign aircraft continued at Groom Lake under such programs as HAVE GLIB, HAVE IDEA, and others. The ultimate application of this work was CONSTANT PEG in which a squadron of MiG-17, MiG-21, and MiG-23 aircraft were flown from Tonopah Test Range (Area 52) to engage Air Force and Navy pilots in simulated air combat over the Nellis Air Force Range. Between 1977 and 1988, more than 6,000 U.S. airmen were exposed to simulated combat with actual Soviet aircraft. The name CONSTANT PEG was created by Col. Gaillard Peck, the original commander of the Red Eagles. He took CONSTANT, the call sign used by Maj. Gen. Hoyt S. Vandenberg, Jr., director of operations and readiness, Office of the Deputy Chief of Staff, Plans and Operations at Headquarters U.S. Air Force, and added PEG (his wife Peggy's nickname).
Test pilots engaged in technical exploitation of the MiGs were assigned to an Air Force Systems command unit called the 6513th Test Squadron, Red Hats. Tactical Air Command's 4477th Test and Evaluation Squadron, Red Eagles, was responsible for tactical exploitation. In order to conceal the true identity of the aircraft they flew, Soviet-built planes received special designations. Variants of the MiG-21 were known as the YF-110B and YF-110C. Several models of MiG-17 were known as YF-113A, YF-114C, and YF-114D. Two distinctly different MiG-23 types became the YF-113B and YF-113E. These are only a few examples and at least one designation, YF-113C, has been applied to two entirely different aircraft types.
Other declassified Groom Lake projects include development of low observable, or stealth, aircraft that were designed to be undetectable by radar and other means. Project HAVE BLUE involved testing of two Lockheed technology demonstrators from 1977 to 1979. Success of this project paved the way for project SENIOR TREND, development of an operational stealthy attack aircraft. The first of five full-scale development (FSD) airframes, designated YF-117A, made its maiden flight at Groom Lake in June 1981. All of the FSD prototypes, and production F-117A airframes underwent initial testing at Groom Lake. SENIOR PROM, a small, stealthy unmanned vehicle based on this technology underwent testing but never entered production.
Northrop refined stealth design further with the one-of-a-kind TACIT BLUE (YF-117D), first flown in 1982. The airplane's bizarre appearance earned it the nickname "Whale" and people who worked on the project called themselves "Whalers." Others at the test site called it "Shamu" after the killerwhale at San Diego's Sea World. Results from TACIT BLUE flight testing were used to develop the B-2 Advanced Technology Bomber (SENIOR CEJAY).
Alias Smith and Jones
In the "black world," people have pseudonyms, aliases, and code names, and organizations are hidden behind false names and vague terminology.
When soliciting bids for construction of the Groom Lake facility in 1955, Kelly Johnson hid Lockheed's identity behind the fictitious "C&J Engineering." Contractors working at Area 51 during projects like OXCART used false company names at the direction of program security officers. Magnavox employees, for example, were instructed to say that they worked for Vose Company. The division of Edgerton, Germeshausen, and Grier, Inc. (EG&G) that served as a prime contractor for the Groom Lake facility was known as Special Projects. Contractors or vendors never referred to the CIA by name, calling the agency simply "the customer."
During the U-2 program, CIA pilots travelled under aliases; Frank Powers became Frank Powell and Robert Ericson became Robert Everett. Col. Hugh C. "Slippery" Slater used the pseudonym Harold Charles Straffin while commanding the U-2 detachment in Taiwan, and later as commander of the DET 1, 1129th SAS during Project OXCART.
Personnel were advised that it was best to keep their real first and middle names, and only change the last name so it would be easier to remember. Not everyone followed this practice, however. CIA operations officer John Henry "Hank" Meierdierck used the name Rufus T. Gelzaines while OXCART pilot Frank Murray was assigned the improbable Alex P. Vanagunas by the Agency, who reportedly names found on headstones in Europe. Some chose subtly humorous names; A-12 pilot Jack Layton went by Jack Dickhurst and Lockheed engineer Ben Rich introduced himself as ben Dover. Because the EG&G Special Projects team performed services for multiple customers, they used simple code names instead that were easy to remember. Radar specialist Thornton "T.D." Barnes was known as "Thunder."
Call Signs
As with its "white world" counterparts, secret flight operations involve a wide variety of call signs for aircrews, airspace, and ground stations.
Controlled airspace surrounding Area 51 was initially known as the YULETIDE SOA, and later as DREAMLAND. The control tower used call signs BUD and JUPITER. Approach Control was known as SAUCY, and A-12 flight operations were handles by DUTCH CONTROL or BOXER CONTROL depending on the radio frequency being used. The A-12 pilots (called "drivers") used DUTCH call signs, as well. In the early days of the program, the call sign was associated with the Article number, so that a pilot flying Article 123 would identify as DUTCH 23. Later, pilots were assigned personal call signs that were used regardless of aircraft number. Frank Murrray, for example, was DUTCH 20 and Robert Gilliland was DUTCH 51.
In the 1970s, Red Hats pilots started using the call sign BANDIT because it was unlikely to draw attention during test flights over the Nellis ranges. The term "bandit" was commonly used during air combat training to refer to incoming "enemy" aircraft. Eventually all test pilots at Groom Lake had BANDIT call signs. Red Hat pilot Skip Anderson kept his BANDIT 84 call sign after he transferred to the SENIOR TREND Combined Test Force. TACIT BLUE test pilot Dick Thomas was BANDIT 69. The Red Eagles also adopted the term for use in operations at Tonopah Test Range. Operational pilots flying the F-117A out of Tonopah (and later Holloman Air Force Base, NM) earned a permanent three-digit "Bandit number" upon completion of their first flight in the airplane.
The most famous of all Groom Lake call signs is probably JANET, used for flights transporting workers to the secure test facility. Long a mystery to outside observers, some of whom thought it might be an acronym, it actually originated on the whim of a former Area 51 commander. Richard A. Sampson, who commanded the base from 1969 through 1971 picked his wife's name to identify the EG&G commuter planes that ferried workers in from Las Vegas and Burbank. The JANET call sign has seen continuous use ever since.
Legacy
In the 1970s, Col. Maynard "Am" Amundson, project OXCART Deputy Commander under Col. Hugh "Slip" Slater, formed an exclusive social association called Roadrunners Internationale. Membership was initially limited to personnel who had served with the 1129th Special Activities Squadron and anyone affiliated with the OXCART project. CIA and Air Force personnel, support contractors, and others who worked with the A-12, YF-12A, and D-21 programs could share memories and, in some cases, finally introduce themselves by their given names. As various programs were declassified, membership was opened to personnel from other Groom Lake projects (starting with the U-2), and to associate members who could preserve and communicate their stories. Today, this legacy is being carried on through the efforts of the Nevada Aerospace Hall of Fame. NVAHOF members are working to collect and share oral history interviews and documentary materials, and to preserve the legacy of these unsung Cold War heroes.