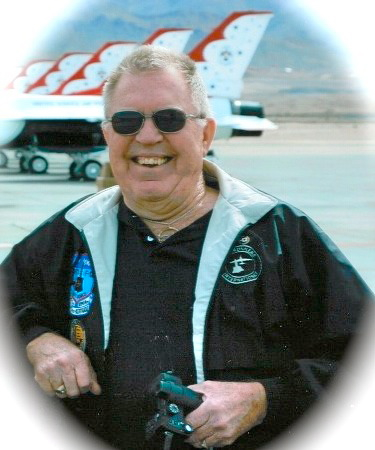 In an extraordinary century, Mr. Barnes has lived an extraordinary life with legendary accomplishments. He began a unique and diverse career while in the U.S. Army where he advanced from serving in Korea as an Intelligence Specialist to attending years of formal electronics training in surface-to-air missiles that included the Nike Ajax, Nike Hercules, and HAWK. Thereafter, he advanced technologically and established many milestones in the forefront of the evolution of electronics and cutting-edge military technology during the space race with the Soviet Union. His is an epic story of becoming advanced in missile ECM and ECCM where he participated in a leading technical role in Army evaluations of Soviet aircraft ECM technology to apply to the HAWK missiles being deployed to Europe during the Soviet Iron Curtain crisis and to Key West, Florida during the Cuban Missile Crisis. Barnes deployed to Germany with the first Hawk SAM battalion to be mobilized as a combat unit. During the course of his military career Barnes was awarded numerous missileman awards and was selected to attend Artillery Officer Candidate School in preparation for advisor duty in Vietnam. Barnes' military career ended after 10 years due to permanently disabling injuries sustained during survival training while in Officer Candidate School.

Honorably discharged from the Army, Barnes was recruited for an electronics engineer position at the Beatty station of the NASA High Range for flight testing of the X-15, XB-70, the LLRV (Lunar Lander prototypes), the lifting bodies, A-12, YF-12, and SR 71 Blackbird flights. He participated in establishing four world speed and altitude records in the YF-12A. He spent a year at the Flight Dynamics Laboratory at Wright Patterson AFB, Ohio performing integrity tests on the Apollo space capsule. Concluding this project, he returned to the NASA High Range as a hypersonic and space flight support specialist for continuation of his high Mach and hypersonic flight testing. Barnes was instrumental in resolving a test pilot life threatening "inherent and unsolvable" altitude error problem that had for years existed in the radar data of Dryden/Edwards, Beatty, and Ely tracking station NASA High Range. Shortly thereafter Barnes was recruited to Groom Lake, Nevada as part of the most highly classified special projects team since the atomic bomb Manhattan Project.

Cleared at both "Q" and "Top Secret" security levels, at the Groom Lake facility Barnes, operated under a code name, serving as cadre for ultra secret projects of the CIA, National Defense Agency, National Air and Space Intelligence Agency, Air Defense Command, Tactical Air Command, U.S. Air Force Foreign Technology Division, the Air Force Flight Test Center, the Naval Air Test Center, Naval Weapons Center, and the Air Tactical Command, most of which remains classified today. The few declassified activities that can be disclosed include CIA A-12 Project OXCART and the Soviet MiG exploitation projects Have Doughnut, Have Drill, and Have Ferry. The Soviet MiG exploitation projects were instrumental in reversing the 9-1 kill ratio against U.S. pilots in air combat in Vietnam and were the genesis of the Navy's Top Gun and the Air Force's Red Flag exercises that continue today. Following the MiG projects Barnes participated in Project Have Blue, the development of stealth technology introduced by the Air Force F-117. Details of Project Have Blue and the identity of other projects in which Barnes led or participated cannot be disclosed as they remain classified today.

Between projects at Groom Lake Barnes was loaned to NASA's Nuclear Engine for Rocket Vehicle Application (NERVA) program at the Nuclear Rocket Development Station (NRDS), Jackass Flats, Nevada to develop a nuclear Engine for future manned flight to Mars. Also between projects at Groom Lake, he participated in the Atomic Energy Commission tests of the atomic bomb.

During his nearly half-century as a Nevadan, Mr. Barnes has made significant contributions to the civic life of the state, most significantly, his groundbreaking advances in the field of aerospace and education of Nevada's youth. Since retirement Barnes has remained active with the Disabled American Veterans and numerous military and aerospace organizations and activities. He is currently the Director of the Nevada Aerospace Hall of Fame and serves as president of Roadrunners Internationale, an association of the CIA, Air Force, and aerospace companies who built and flew the CIA's early U-2 and A-12 Blackbird. He is an active member in various other associations that include AFIO (Association for Intelligence Officers), CIRA (Central Intelligence Retirement Association), the U-2 Dragon Ladies Association, the SR-71 Blackbird association, the Nevada Test Site Historical Foundation, Flight Test Historical Foundation, and the National Aviation Hall of Fame. Barnes is an active member of the Nellis AFB Support Team and Civilian Military Council, and an active participant in various oral history projects that include the UNLV Cold War Oral History project, historians at CIA, and historians at Fort Bliss, Texas for the early HAWK SAM deployment in which Barnes participated during the Iron Wall and Cuban Crises. Barnes is also an active member of the Army Artillery OCS Alumni.

Under the leadership of Barnes, the Nevada Aerospace Hall of Fame is heavily involved with various universities and other learning establishments wherein their students are directly involved with the activities of the Hall of Fame. As leader of the Roadrunners he has made the recording of the individual legacies a priority project with the UNLV Cold War Oral History Project and the Library of Congress. Since declassification of some of the projects in which he participated with the U.S. Air Force and CIA, Barnes has participated in symposium panels and been a guest speaker telling the previously untold story of these secret heroes of the Cold War.

Barnes is also a successful businessman, forming an oil and gas exploration company in the 1970s, he served as its CEO until 1982 where he sold his oil business to divest in a mining company where he serves as President today. During his international business career, Barnes invested and participated in other diverse business ventures in the US, Switzerland, and the Dominican Republic to include gold and uranium mining, banking, and motel/restaurant businesses.